Entwine vintage into your décor
Treasures Are Found!
"In The Attic"
Attic Gifts & Bike Attic
Antiques & Decorative Arts, Bicycles & Accessories,Gardenalia, Gifts & Collectibles, Tea & Accessories.
Garden Dwellings'
Focusing on Large-Scale Model Trains - 1:20.3 - 1:32 &, O (1:48) scale, principally, running on 1.75"(45mm) Gauge Track & Accessories
Booths #1295 -1299
are all located in the Volo Mercantile
the merc mall has over 80 dealers and over
16,000 sq. ft. of retail goods & antiques.
| | |
| --- | --- |
| BACK ENTRANCE OF THE MERCANTILE MALL IS WHERE THE GARDEN DWELLINGS' ROUTE 66 SANTA FE LGB RAILWAY DISPLAY IS LOCATED...Train is running most weekends | BACK ENTRANCE OF THE MERCANTILE MALL |
The Mercantile Mall

Phone: 815-344-2947

Fax: 815-344-2474

Open 7 days a week
10am-5pm

Methods of excepted payment:

Cash, Checks (with proper ID), Visa, MasterCard, and Discover.

ATM and on grounds



The Mercantile Mall sells everything from antique & collectibles, bicycles, model trains, fairies, gardenalia, die-cast cars, video games and machines, framed celebrity photos, classic TV videos, vintage VHS & DVD's, toys & plush, artisan crafts, home furnishings, gifts

and so much more.

The Mercantile: Services -

~For all your Bicycle Repair needs call Bill at "Bike Attic" 1-847-949-5077 to make an appointment today.

~For all your Picture Framing needs come see (Tues.-Sat.) or call "The Framing Goddess" Sharon Witek CPF at 1-847-682-0163 to make an appointment.



It's worth your time to come and spend an hour or the whole day

there is something for everyone in this 30 acre park.




IN THE ATTIC
Bicycles & Parts, Model Trains, Gardenalia,
Live Miniature Plants, Gifts, Collectibles,
& Antiques Shoppe



Gift Cards Available At the Mercantile & Antique Malls.
You Can Purchase Them At Any Mall And Use Them at All Malls!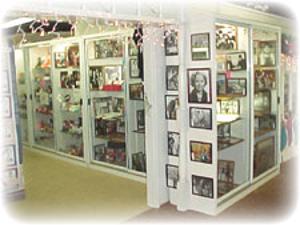 white showcases for rent
All merchandise displayed at Volo-4-Malls is in individual rented spaces and showcases, it's a must see on your visit to the Northern Illinois area.
If you're interested in displaying your merchandise for sale in any of the Volo-4-Malls, they still have limited availability of showcases and pegboard booths for lease. As of 2013 All new vendors items must be 25-years or older or out of production.

Make sure to tell them: Kim and Bill Kelly from the "Attic" sent you.


Call Carol or Lisa, 815-344-2947 or
Apply on-line at
VoloShopping.com
IN THE ATTIC - Bicycle Repair, Model Trains, Antiques, Live Miniature Plants, Decorative Arts, Gift, and Collectibles
c/o: Volo Mercantile Mall, 27640 Volo Village Rd. Volo, Illinois 60073-9613
(847) 949-5077
Our eBay Store: http://www.stores.ebay.com/Attic-Gifts